Olive and Feta Pastries (Pitoules me Elia ke Feta)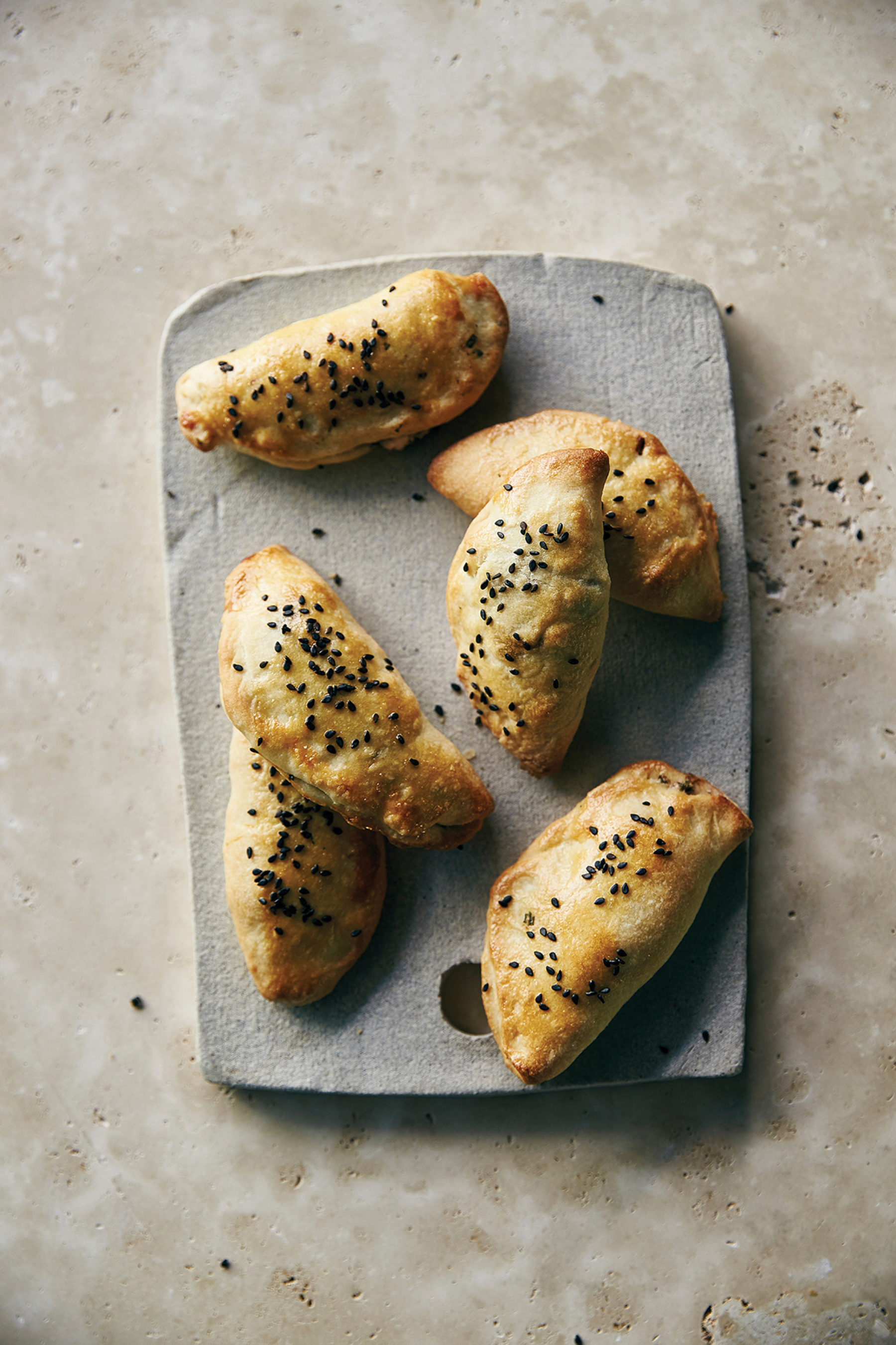 Prep 45 minutes Cook 45 minutes Serves 4–6
Filling
500 g black pitted Kalamata olives, finely chopped
1 cup coriander, finely chopped
½ cup flat-leaf parsley, finely chopped
½ cup mint, finely chopped
cup chives, finely chopped
200 g Greek feta, crumbled
pepper
salt, if needed
Dough
1 large water glass (400 mL) sunflower oil
1 large water glass (400 mL) freshly squeezed orange juice, strained
2 large water glasses (500 g) strong white flour
1 tsp salt
1 egg yolk mixed with 2 tbsp cold water, to use as egg wash
nigella seeds, to sprinkle
Method
To make the filling, combine the olives, coriander, parsley, mint, chives and feta in a bowl. Check for seasoning and add salt if needed. Mix very well and return to the fridge.
To make the dough, place the oil and orange juice in a large bowl. Slowly add the flour and salt, mixing by hand to make a soft, pliable dough that doesn't stick to your hands. Cover the bowl with cling wrap and allow the dough to rest for about an hour.
Preheat the oven to 180°C/160°C fan-forced.
On a floured work surface, use a rolling pin or length of dowel to roll the pastry out to a circle about 2 millimetres thick. Using a 10-centimetre biscuit cutter, cut as many circles as will fit. Spoon a dessertspoon of the filling mixture onto one side of each of the circles and fold them over to form a half-moon. Use a fork to seal by pressing the edges together, then transfer to a baking tray lined with baking paper. Bring the remaining pastry together and roll it out to repeat the cutting and filling, until all the filling is used.
Brush with the egg wash and sprinkle with the nigella seeds. If freezing, do so at this point. If not, bake until golden brown, about 30 minutes.