Blood Orange and Filo Pastry Pita with Syrup (Portokalopita)
Portokalopita is simply divine. There are many versions, but they all have oranges, eggs, dried filo pastry and cream or yoghurt.
There is never a week when we don't make portokalopita at least once at Sweet Greek. Sometimes to vary it we make it with lemons — lemonopita, which is equally delicious.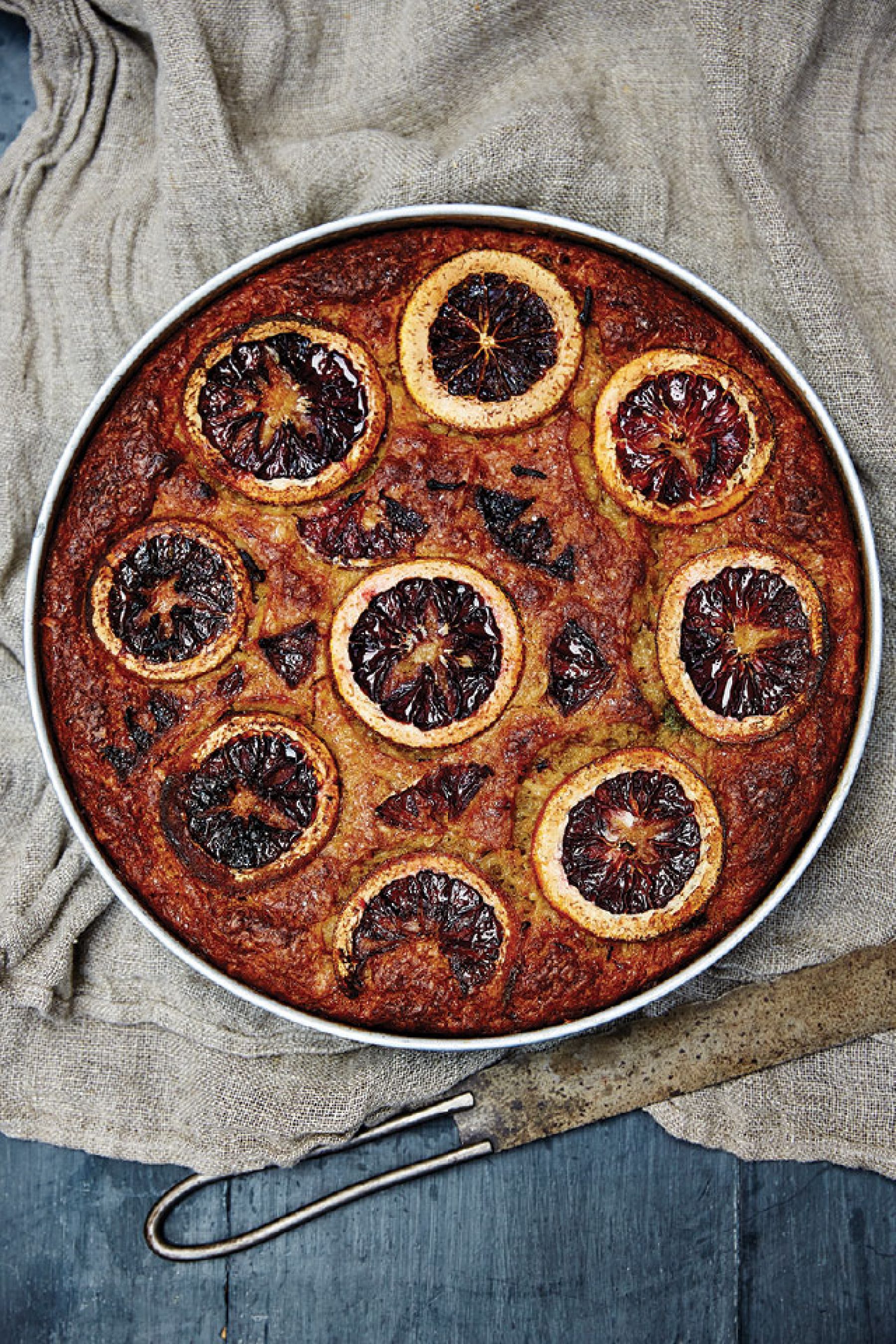 Cake Ingredients
450 g filo pastry (about 11⁄2 packets)
4 oranges (I like to use navel oranges or blood oranges when in season)
1 lemon
250 g sunflower oil
250 g caster sugar
200 g thick Greek yoghurt
200 mL pouring cream
1 tsp vanilla extract
5 eggs, lightly beaten
1 tsp baking powder
1 tsp baking soda
Syrup Ingredients
500 g sugar
500 mL water
juice of 2 oranges
1 orange wedge
1 lemon wedge
1 cinnamon stick
5 cloves
Tip
Start this recipe a day ahead.
Method
Spread the filo pastry onto a table cloth and leave to dry out overnight. In the meantime, boil 2 of the oranges in water for 1 hour. Remove from the heat and leave to cool in the water overnight.
The next day, cut the cooked oranges into quarters and remove any seeds. Pulse in a food processor and set aside, keeping them in the food processor. Zest the remaining 2 oranges and the lemon, then juice the oranges and set aside for the syrup. To make the syrup, bring the sugar and water to the boil. When the sugar has dissolved, add the juice of the oranges, the orange and lemon wedges, cinnamon stick and cloves. Boil for approximately 5 minutes, then remove from the heat and leave to cool completely.
To make the cake, add the oil, sugar, yoghurt, cream, vanilla extract, orange and lemon zest and eggs to the oranges in the food processor. Pulse a few times to bring all the ingredients together.
Transfer the mixture to a large bowl. Gently mix in the baking powder, baking soda and the filo pastry, which has been crumbled by hand. Add the filo in batches, allowing it to soak into the mixture, and stir to prevent the filo sheets clumping together. Leave the mixture to sit for about 30 minutes, stirring every so often.
Preheat the oven to 180°C/160°C fan-forced. Butter and flour a 32-centimetre round baking tin.
Pour the mixture in and bake for 45 minutes or until cooked in the middle. Test with a metal skewer or knife that will come out clean when the cake is ready. Pour the cold syrup over the hot portokalopita immediately after removing it from the oven, then leave it to cool.