Braised Artichoke Salad with Peas and Broad Beans (Salata me Anginares, Bizelia ke Koukia)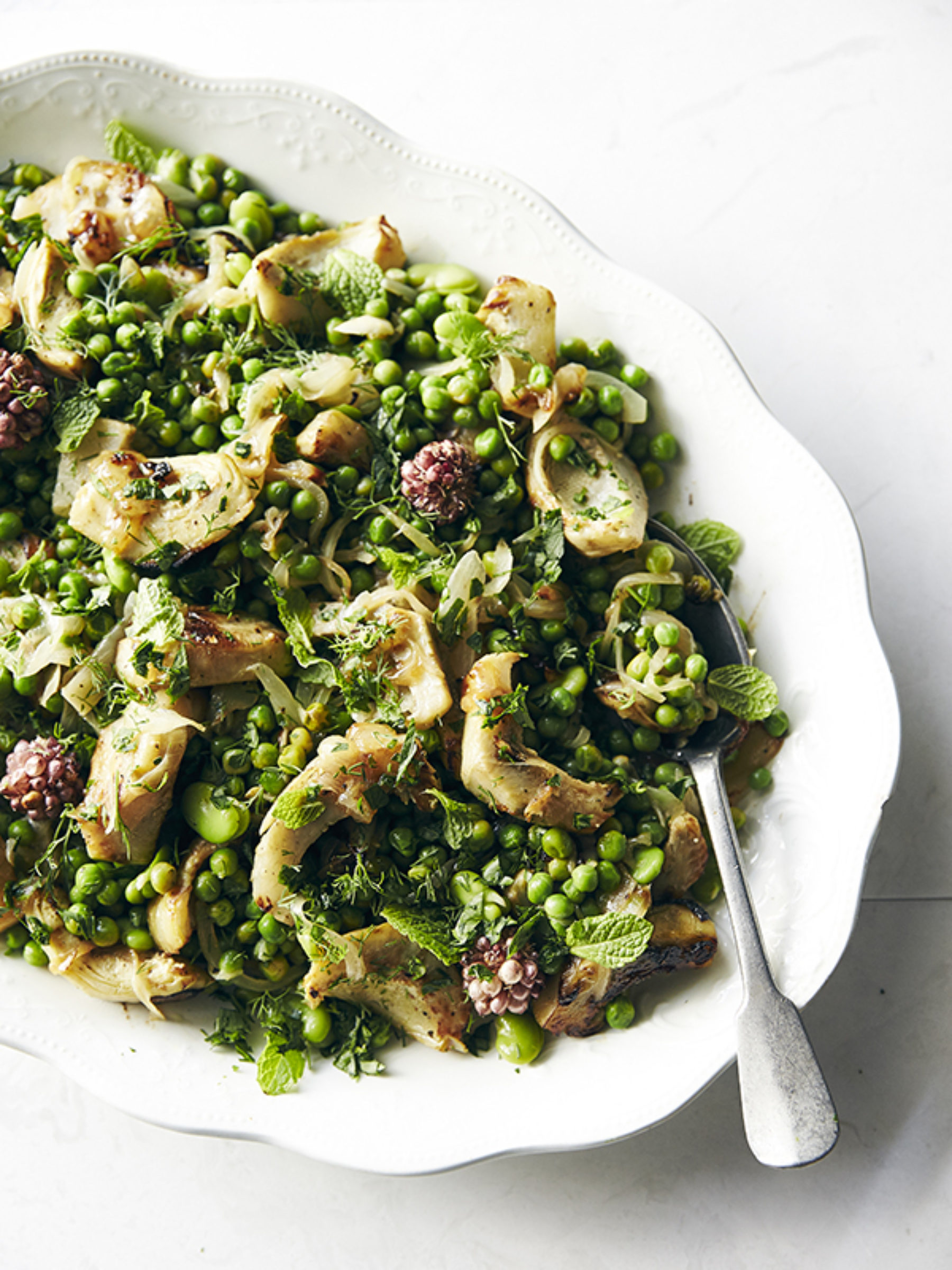 Prep 30 minutes Cook 30–40 minutes Serves 4–6
Ingredients
1 kg frozen artichoke hearts, thawed (or prepare 2 kg of fresh artichokes)
2 tbsp Greek extra virgin olive oil
2 white onions, thinly sliced
3–4 whole garlic cloves, skin on
1 lemon, segmented (rind and pith removed)
500 g frozen broad beans, thawed and peeled
500 g frozen peas, thawed
1 cup dill, chopped
1 bunch flat-leaf parsley, finely chopped
1 bunch mint leaves, whole
Dressing
Dressing
cup Greek extra virgin olive oil
juice of ½ a lemon
½ tsp salt
¼ tsp pepper
Method
Preheat the oven to 200°C/180°C fan-forced.
Rinse the thawed artichokes in cold water and slice each heart into 2-centimetre slices.
Heat the olive oil in a heavy-based roasting pan. Add the artichokes, onions, garlic and lemon segments. Season with salt and pepper, and bake for about 30 minutes. The artichokes will begin to brown and the onions will wilt and soften. Once ready, remove from the oven and set aside to cool to room temperature.
While the artichokes are in the oven, prepare the broad beans, peas and herbs. I like to rinse the broad beans and peas and drain them well.
To make the dressing, whisk the dressing ingredients together.
Once the artichokes are cool, add the broad beans, peas and herbs to the baking tray. Pour the dressing over and toss gently but thoroughly.
The salad should have a lovely lemony tang and the artichokes can take a lot of flavour, so check to see whether you need to add more lemon juice and seasoning.