Yoghurt Panna Cotta with Masticha Chios and Honey (Panna Cotta me Meli ke Masticha)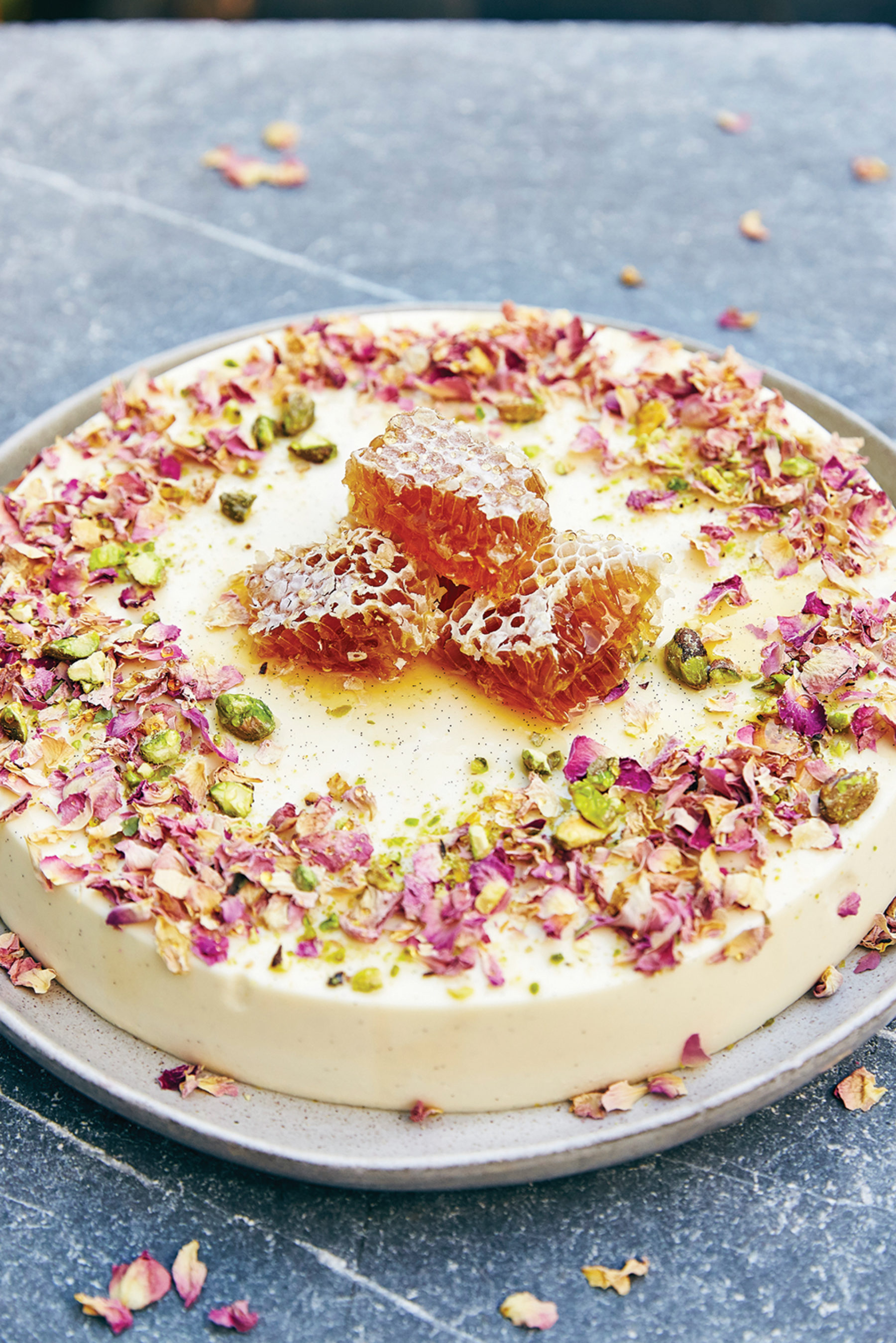 Prep 45 minutes, plus overnight Serves 6–10
Panna cotta
4 gold-strength gelatine leaves
3 pellets Masticha Chios, available from Sweet Greek
1 tsp sugar
150 mL milk
1 L pouring cream
1 tsp vanilla extract
250 mL caster sugar
200 mL thick full-fat Greek yoghurt
Garnish
150 g fresh beeswax honeycomb, cut into 3 chunks
dried rose petals
slivered pistachios
2 tbsp good-quality honey (I recommend the Greek brand Attiki)
Tip
Start this recipe a day ahead.
You will need a round silicone cake mould, approximately 23 centimetres in diameter. You will also need a fine strainer and a piece of muslin.
Method
Place the gelatine leaves in a bowl of cold water to soak while you make the panna cotta.
To make the panna cotta, grind the Masticha Chios to a powder in a mortar and pestle with 1 teaspoon of sugar, and set aside. Bring the milk, cream and vanilla to a simmer over medium heat. When small bubbles appear, remove from the heat and add the caster sugar and ground Masticha Chios. Stir until the sugar has dissolved.
Squeeze all the water out of the gelatine leaves and add to the cream mixture. Stir to ensure the gelatine has fully dissolved. Cool the mixture to room temperature in an ice bath. To make the ice bath, put water and ice in the kitchen sink, enough to come halfway up the side of the saucepan. Stir to cool as quickly as possible.
Place the yoghurt in a small bowl. Mix in enough of the cream mixture to loosen the yoghurt, and stir until completely smooth. Pour this yoghurt mixture into the cream mixture, stirring well to fully incorporate.
Pour the mixture through a fine strainer and into the cake mould. Allow it to set in the fridge overnight.
When ready to serve, the panna cotta should be fully set, with a slight wobble. Carefully loosen the edge of the mould with your fingers or run a pallet knife around the edge. Place a serving plate on top and flip over to invert the panna cotta onto the plate.
Pile the honeycomb up in the centre of the panna cotta. Sprinkle the rose petals and slivered pistachios around the edges, and drizzle the honey over the top using a fork.