Roasted Pumpkin with Sesame Seeds, Hazelnuts and Yoghurt Dressing (Psiti Kolokitha me Yiaourti)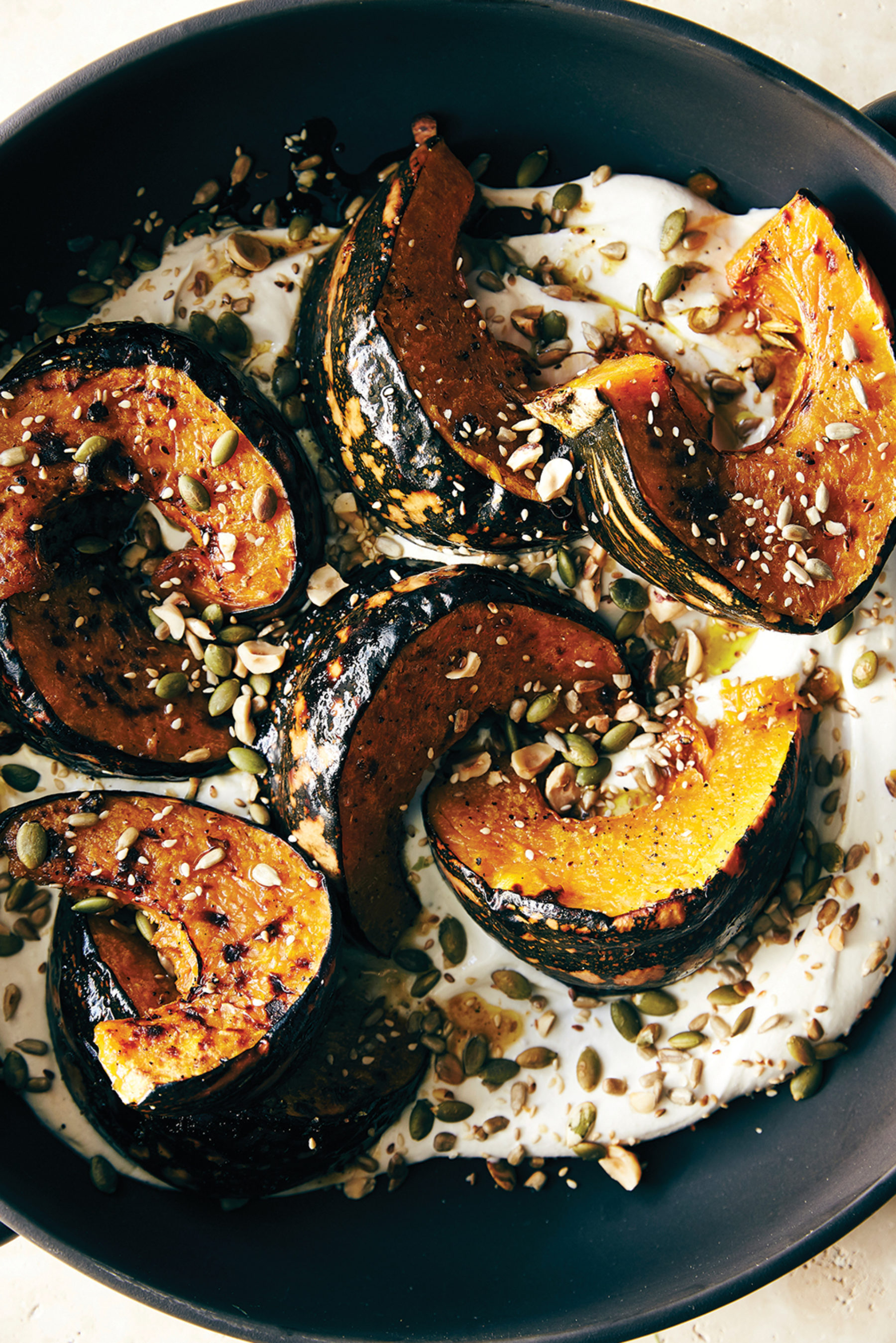 Prep 30 minutes Cook 30–40 minutes Serves 6
Ingredients
1 medium-sized jap pumpkin
½ cup sesame seeds
½ cup nigella seeds
½ cup hazelnuts
Dressing
2 cups thick Greek yoghurt
2 tbsp Greek extra virgin olive oil
juice of ½ a lemon
½ tsp salt
2 tbsp tahini
Method
Preheat the oven to 200°C/180°C fan-forced.
Combine all dressing ingredients, taste for seasoning and set aside.
Toast the seeds and nuts together, then roughly chop the hazelnuts. I like to crush them with a rolling pin. To do this, place all seeds and nuts between two sheets of baking paper and roll the rolling pin over once — easy!
Cut the pumpkin into medium-sized wedges with the skin on. Remove the seeds, brush generously with olive oil and sprinkle with sea salt. Place on a baking sheet, leaving a few centimetres between the pieces, and bake for 30 minutes, or until nicely golden on both sides.
Pour half the dressing into the bottom of a beautiful serving bowl. Place the pumpkin wedges on top in a circular pattern.
Sprinkle all the toasted seeds and nuts over the pumpkin. Serve with the rest of the dressing in a side bowl for people to help themselves.